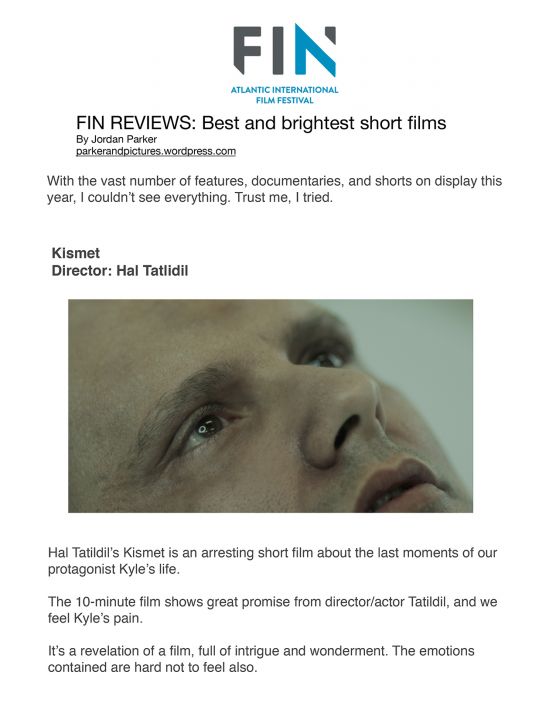 Despite the odds, first-time Halifax filmmaker
makes FIN Festival debut with Kismet
September 12, 2018 (Halifax, NS) - Haluk Tatlidil is no stranger to the screen, but his first film – a 10-minute dramatic short called Kismet, or fate in Turkish, from where he was born, tested him as a filmmaker striving to get his first film screened at a festival. Not only does he star in the film as its main character, but he also wrote, directed, produced, camera operated (using an app on his mother's iPad), gripped and ultimately made the project happen on his own.
This mesmerizing story exploring the potential possibility of living multiple realities simultaneously while only being aware of one is screening for the first time as an official selection at the 2018 FIN Atlantic International Film Festival in the Atlantic Shorts 2 Program on Saturday September 15 at 1pm and the Encore Presentation on Monday September 17 at 9:10pm.
Despite his best efforts Halifax's Tatlidil could not find many industry professionals to collaborate with when creating this project last spring. He connected with make-up artist Marc Deveault and sound recordist, Olivia King – whose special skill sets were something foreign to Tatlidil who made the most of what he knew as a photographer to ensure the show went on. These professionals and the help of a Canon app on his mother's iPad allowed the film to be made with the press of a button between self-directed and acted scenes. Tatlidil would also complete the film's entire post production alone.
He says, "It's the hardest thing I've ever done, there were so many hurdles involved. Finishing it and having it screened is incredibly gratifying." He launched his production company, Zero State Films at the same time.
Tatlidil stars along local actors Amy Trefry as Sofia, the psychotherapist and Laura Bleasdale as Kristen, the love of his life.
"The two shone in the casting sessions – making the characters their own and carrying the project," he said. Without their additions the project would have been nearly impossible and largely a one-man show. It is, "an exploration into the nature of reality, during the last moments of Kyle's life."
Kelsey Power/Horton PR
09-03-18 - The official KISMET Trailer is out there!
08-15-18 - So excited to announce my Debut Script/Film, KISMET, is an Official Selection, 2018 FIN International Film Festival! 
06-02-18 - IMDB listing for KISMET.
05-27-18 - Production on KISMET has wrapped!
05-21-18 - Production has started on KISMET!
05-14-18 - ZeroState Films' first production KISMET announced! 
04-12-18 - ZeroState Films is official!